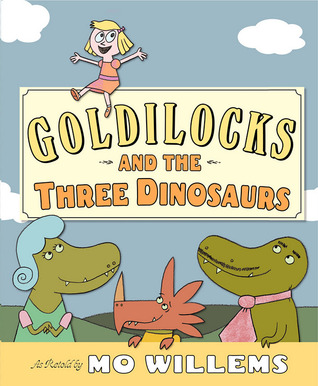 Goldilocks and the Three Dinosaurs
by Mo Willems
Picture Book
Library
September 2012
Book Jacket Summary
Once upon a time, there were three hungry Dinosaurs: Papa Dinosaur, Mama Dinosaur . . . and a Dinosaur who happened to be visiting from Norway.

One day--for no particular reason--they decided to tidy up their house, make the beds, and prepare pudding of varying temperatures. And then--for no particular reason--they decided to go...someplace else. They were definitely NOT setting a trap for some succulent, unsupervised little girl.

Definitely not!

This new take on a fairy-tale classic is so funny and so original--it could only come from the brilliant mind of Mo Willems.
My Thoughts
Oh Mo Willems, I think you are awesome. He makes the funniest books ever and has now dipped his toe into the fairy tale realm. Fracture fairy tales gotta love 'em. I know I do! You take something you heard a hundred times and find a way to make in unique. Willems is no exception.
I picked this one up for two reasons, the first listed above and the second because of dinosaurs. There is a little boy in life who loves them and funny stories starring dinosaurs would make his day. He already read this one and was rolling around laughing at the shenanigans. This is one to read right away and if you do not come out loving Willems then I am just shocked.
Goldilocks is the same but she ends up in the house of three dinosaurs that may or may not have laid a trap for such an occasion. However, Goldilocks figures it out in the nick of time! My favorite part might be her seeing the three bears and yelling with delight. Or the crossed out unused titles, such as Goldilocks and the Three Cyclopes, Three Salmon, or Three Opera Singers. Also, look for the little things in the book like a picture of the Pigeon, the wipe your talons mat, and the We Are Natural Gas poster.

Book Pairings
The Three Ninja Pigs by Cory Rosen Schwartz
Goldilocks and Just One Bear by Leigh Hodgkinson