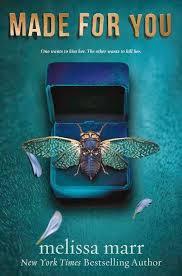 Made For You
Audiobook
8 hours and 54 minutes
September 2014
Book Jacket Summary
Bestselling author of the Wicked Lovely books Melissa Marr's first contemporary YA novel is a twisted southern gothic tale of obsession, romance, and murder. A killer is obsessed with Eva Tilling. Can she stop him, or will he claim her?

When Eva Tilling wakes up in the hospital, she's confused—who in her sleepy little North Carolina town could have hit her with their car? And why? But before she can consider the question, she finds that she's awoken with a strange new skill: the ability to foresee people's deaths when they touch her. While she is recovering from the hit-and-run, Nate, an old flame, reappears, and the two must traverse their rocky past as they figure out how to use Eva's power to keep her friends—and themselves—alive. But while Eva and Nate grow closer, the killer grows increasingly frantic in his attempt to get to Eva.

For the first time, New York Times bestselling author Melissa Marr has applied her extraordinary talent to contemporary realism. Chilling twists, unrequited obsession, and high-stakes romance drive this Gothic, racy thriller—a story of small-town oppression and salvation. Melissa's fans, and every YA reader, will find its wild ride enthralling.
Very good and fast paced thriller! I was always disappointed when I had to stop listening for the day because it has such a sense of urgency. Eva is hit by a car in an attempt on her life by an obsessive stalker, Judge. He believes she deserves to be punished because she has not come to him despite the "clear" messages he has sent. Eva is clueless about his stalker and wakes up in the hospital with a new found gift of seeing peoples deaths. At first she thinks it is part of her brain damage from the accident but as bodies pile up she starts to trust these visions. With her best friend Grace, Eva tries to piece together her accident and the deaths of her friends. She is also distracted by her crush, Nate, and his return to her life.
It is told by three narrators and the voices really stood out in the audiobook with three people reading. You learn so much about the character by getting in their head and seeing their motivations, especially the boy who calls himself Judge. He is about the creepiest POV I've read in a long time. He talks about the horrible things he will do and does do to the girls he is killing. He has a code that he kills by and feels that he is being tested by the Lord. It is just plain creepy. I do like the friendship between Grace and Eva. It feels like the strongest part of the book and I am glad to see two girls who have such a strong friendship with no backstabbing at all. So many books have frienemies that two friends who are unwilling to lie to each other, even when it hurts, is so refreshing.
This is a great book to listening to in long stretches because you will not want to stop. It left my heart racing and it is a great thriller. It also has great friendship, some romance, and a great southern gothic feel. I would recommend reading it to those with a strong stomach though. There is a lot of disturbing imagery and thoughts that come from the killer.
Book Pairings
Graveminder by Melissa Marr
Servants of the Storm by Delilah S. Dawson
Clarity by Kim Harrington