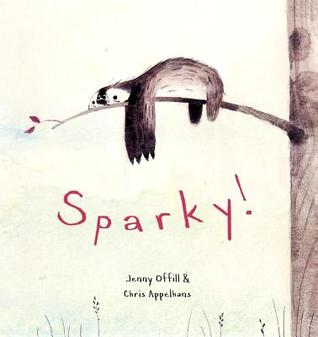 Sparky
by Jenny Offhill
illustrated by Chris Appelhans
Picture Book
Library
March 2014
Book Jacket Summary
The ingenious author of 17 Things I'm Not Allowed to Do Anymore and a brilliant illustrator and production designer of the Coraline movie have created a hilarious, touching picture book perfect for young animal lovers. Like the Caldecott Medal-winning Officer Buckle and Gloria, Sparky stars a pet who has more to offer than meets the eye. When our narrator orders a sloth through the mail, the creature that arrives isn't good at tricks or hide-and-seek... or much of anything. Still, there's something about Sparky that is irresistible.
My Thoughts
I want a pet sloth but I highly doubt that is ever going to happen. But in Picture Book Land kids can apparently have sloths for pets without getting in trouble. Can I live there? But you probably want to know about the book and not my affinity for sloths and their lazy natures. Sparky is one of the cutest books I have ever seen and I love the illustrations of the sloth. He just lays there or sits there in some scenes. The pictures include some very humorous moments with a sign about a guard sloth or sparky not moving for two days. Also there is a school librarian, "Mrs. Kinklebaum (who knows everything in the world)". She is a stereotypical librarian with glasses but at least she is young.
There is tension in the fact that the main character is told that her new pet is boring and she is determined to show off her sloths tricks. They range from play dead to being a statue thus the trained sloth extravaganza is a bust. However, it ends on a happy note with the girl and sloth sitting in the tree watching the sun set.
I love this book because it is a more quiet book about a girl and her sloth (which is kind of idealic for me). Plus Chris Appelhans' drawings are beautiful. I found a place to get official prints from the book and that is saying something. That last picture of the girl and sloth watching the sun set is gorgeous. This is a book for sloth lovers!
Book Pairings
A Little Book of Sloth by Lucy Cooke