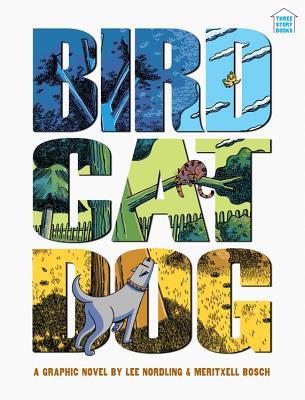 BirdCatDog
by Lee Nordling and Meritxell Bosch
32 pages
Wordless
NetGalley- Lerner Publishing Group
Nov. 2014
Book Jacket Summary
Look out! A bird escapes from its cage and flies out the window. A napping cat wakes up hungry and tries to catch a snack. A dog stands guard in his backyard, ready to bark at anything that comes near. Follow the tales of three animals on one wild afternoon.
In this clever wordless comic, each animal is a hero in its own story and all three stories are connected. Lee Nordling's simple storytelling engages young readers and provides a gateway into understanding multiple perspectives and points of view.
My Thoughts
Wordless books are hard to pull off, especially with a complicated storyline. BirdCatDog is rather exciting as you follow the day of a bird that has escaped its cage, a cat that wants to catch the bird, and a dog that wants that cat out of its yard. You can feel the swooping of the bird as it flies and escapes the cats clutches and the panic of the cat once it realizes that it landed in a dog's yard. This is a great example of a wordless book!
Each panel has a distinct color that helps distinguish each storyline. You can go through and read it straight through or read each story panel. I did both because it felt like I was missing something. I do like that each character is a hero in their own story. The layers of each story builds on the other and it was fascinating to watch it unfold. It is certainly not your average picture book. I highly recommend it because works on world building and character development all within 32 pages. This was a fun read!

Book Pairings
The Conductor by Laëtitia Devernay
Shadow by Suzy Lee
The Secret Box by Barbra Lehman