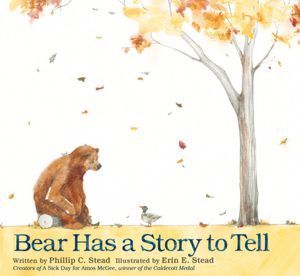 Bear Has a Story to Tell
by Phillip C. Stead
illustrated by Erin E. Stead
Picture Book
Library
September 2012
Book Jacket Summary
It was almost winter and Bear was getting sleepy.
But first, Bear had a story to tell...

Bear found his friend Mouse, but Mouse was busy gathering seeds and didn't have time to listen to a story. Then Bear saw his friend Duck, but Duck was getting ready to fly south. What about his friend Toad? He was busy looking for a warm place to sleep. By the time Bear was through helping his friends get ready for winter, would anyone still be awake to hear his story?

This endearing story of friendship and patience is a worthy companion to Philip and Erin Stead's last collaboration, A Sick Day for Amos McGee, winner of the 2011 Caldecott Medal.
My Thoughts
This is the perfect bed time story and makes me sleepy reading it (in the best way possible). It is not boring but calm and sweet. Even the colors are subdued with rich browns and oranges that give it a fireside glow. You feel like you should be wrapped up in a blanket and sipping hot chocolate as you leaf through the pages with a kid on your lap. That kind of sleepy.
Bear wants to fall asleep for winter hibernation but has a story he wants to tell first. He approaches Mouse first but he has to find seeds for the winter and Bear helps him look. The Bear sees Duck who need to fly South, so Bear checks the weather. This continues with Frog and Mole. Bear then falls asleep.
This book is beyond cute and I would read it to a child as they fall asleep. Hearing a story about a good friend who helps others out. It will lead them off to sweet dreams.
Book Pairings
Sleep Like a Tiger by Mary Logue
A Sick Day for Amos McGhee by Phillip C. Stead