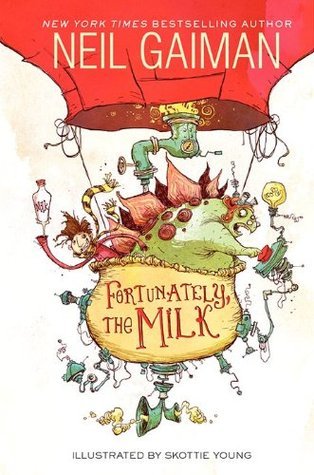 Fortunately, the Milk
by Neil Gaiman
illustrated by Skottie Young
114 pages
Middle Grade Humor
HarperCollins
September 2013
Book Jacket Summary
"I bought the milk," said my father. "I walked out of the corner shop, and heard a noise like this: T h u m m t h u m m. I looked up and saw a huge silver disc hovering in the air above Marshall Road."
"Hullo," I said to myself. "That's not something you see every day. And then something odd happened."
Find out just how odd things get in this hilarious story of time travel and breakfast cereal, expertly told by Newbery Medalist and bestselling author Neil Gaiman and illustrated by Skottie Young.
My Thoughts
Neil Gaiman can set a mood. It is usually a haunting mood but with this one he sets the silliest mood you can think of for a kids book. I may have disturbed our silent house with giggles as I read this short book. A bottle of milk can cause quite a bit of stir in this family's life. Stegosaurus, pirates, aliens, and more crowd into a father story about why he was late bring home the milk. It is a crazy and wild ride as he is abducted by aliens and almost ends up ending the universe.
Absurdity at its best. This is the kind of story that makes me happiest, ones that give no explanation for it's silliness.
The illustrations were hilarious too! Skottie Young has done the newest Oz graphic novels and Rocket the Racoon comics for Marvel. They are black and white line drawings but the fathers crazy hair is fantastic. Silly. Just like the text.
I would recommend this one to all the humorists out there. It it is a book with lots of cross-over appeal for kids and adults. I set this as a middle grade book but I also think that this would be a perfect book for a bed time story for younger kids. It is a quick read with illustrations taking up many pages. The font is also large with different texts for emphasis. I highly recommend this one and have it on my Kindle for safe keeping!
Book Pairings
My Rotten Life (Nathan Abercrombie, Accidental Zombie, #1)
by
David Lubar