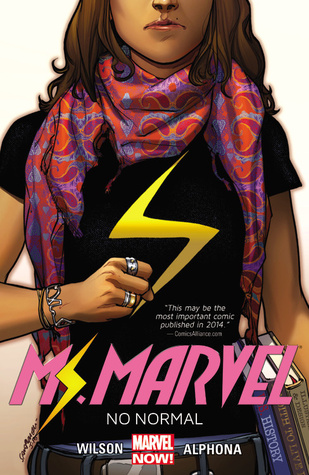 Ms. Marvel vol. 1: No Normal
illustrated by Adrian Alphona
Marvel Comics presents the new Ms. Marvel, the groundbreaking heroine that has become an international sensation!

Kamala Khan is an ordinary girl from Jersey City — until she's suddenly empowered with extraordinary gifts. But who truly is the new Ms. Marvel? Teenager? Muslim? Inhuman? Find out as she takes the Marvel Universe by storm! When Kamala discovers the dangers of her newfound powers, she unlocks a secret behind them, as well. Is Kamala ready to wield these immense new gifts? Or will the weight of the legacy before her be too much to bear? Kamala has no idea, either. But she's comin' for you, New York!
Ms. Marvel is back as Kamala Khan, a teenage girl who is Muslim and the daughter of Pakistani immigrants. I am not a huge comic book reader but this sounded to great to pass up. Kamala is your typical teenager who wants to fit in with her high school crowd, to be blond and popular. However these kids are not exactly the most welcoming. One girl says she is going to stand away from Kamala because she smells like curry. Ugh! I really like Kamala and her wicked sense of humor. She stands in front of a sandwich area to smell the "delicious, delicious infidel meat." She also writes Avengers fan fiction! I think I fell in love with her the moment she started writing her Avenger/My Little Pony crossover.
The superpowers come in when a mysterious mist takes over the city and Kamala wishes she could be like Captain Marvel. She wakes up and can suddenly morph into Captain Marvel's former identity Ms. Marvel, blond hair and wedge shoes included. However, it does not stop there. She can now morph her body to be bigger or smaller. I cannot wait to see how she learns control because she is morphing all over the place at first. Her powers come in handy and when we see our first villain The Inventor.
I am glad they put in translation for Pakistani words and phrases like, Shalwar Kameez translates to Pakistani clothing. It is great to see a the Muslim culture being explored in an American comic book. I also like that Kamala uses her Pakistani wardrobe to create her own version of a costume. This is going to be a great series and I cannot wait for volume 2. This is a great comic and a wonderful addition to the Marvel universe!
Captain Marvel, Vol. 1: Higher, Further, Faster, More by
by
Kelly Sue DeConnick
The Adventures of Superhero Girl by Faith Erin Hicks
Delilah Dirk and the Turkish Lieutenant (Delilah Dirk #1) by Tony Cliff