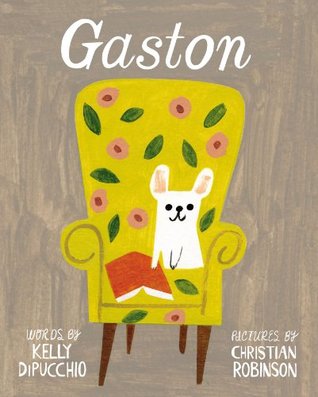 Gaston
by Kelly DiPucchio
illustrated by Christian Robinson
40 pages
Atheneum Books for Young Readers
June 2014
Book Jacket Summary
A bulldog and a poodle learn that family is about love, not appearances in this adorable doggy tale from New York Times bestselling author Kelly DiPucchio and illustrator Christian Robinson.

This is the story of four puppies: Fi-Fi, Foo-Foo, Ooh-La-La, and Gaston. Gaston works the hardest at his lessons on how to be a proper pooch. He sips—never slobbers! He yips—never yaps! And he walks with grace—never races! Gaston fits right in with his poodle sisters.

But a chance encounter with a bulldog family in the park—Rocky, Ricky, Bruno, and Antoinette—reveals there's been a mix-up, and so Gaston and Antoinette switch places. The new families look right…but they don't feel right. Can these puppies follow their noses—and their hearts—to find where they belong?
My Thoughts
I thought that this was the cutest book with lots of puppies and a story about family. There is a switched at birth story that always fascinated me as a child. How would I react to such a situation? This book is beautifully illustrated and I love the cute dogs!
Apparently some people found it problematic with gender roles and nature vs. nurture. They thought that the feminine and masculine roles of Gaston and Antoinette were stereotypical. I didn't even notice until they pointed it out. I was more intrigued with the way they reacted to the new environment. I could understand the feeling of being thrust into a loud and boisterous family when you are used to a quiet one. This happened to me every summer growing up when I went to stay with relatives. Gaston just felt out of place with his birth family and wanted to go back to the family he understood. I don't think it was because his family was made up of all girls that he liked the "dainty" way his family lived. In fact, I thought it was nice to see a boy enjoy wearing pink and being comfortable with it. Maybe I am just reading to much into this and should just enjoy it for what it is.
I really like this one and I am glad I picked it up for my Kindle!
Book Pairings
Wolfie the Bunny by Ame Dyckman
I Don't Want to Be a Frog by Dev Petty