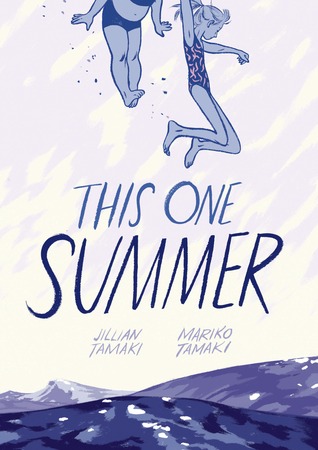 This One Summer
written by Mariko Tamaki
illustrated by
Jillian Tamaki
Every summer, Rose goes with her mom and dad to a lake house in Awago Beach. It's their getaway, their refuge. Rosie's friend Windy is always there, too, like the little sister she never had. But this summer is different. Rose's mom and dad won't stop fighting, and when Rose and Windy seek a distraction from the drama, they find themselves with a whole new set of problems. It's a summer of secrets and sorrow and growing up, and it's a good thing Rose and Windy have each other.

In This One Summer two stellar creators redefine the teen graphic novel. Cousins Mariko and Jillian Tamaki, the team behind Skim, have collaborated on this gorgeous, heartbreaking, and ultimately hopeful story about a girl on the cusp of her teen age—a story of renewal and revelation.
This book has been a subject of controversy on many of the librarian listservs I have been reading because it was a Caldecott Honor book. It was also a Printz Nominee and that should tell you something about the subject manner. It is a bit odd to think of a book that deals with teen pregnancy, depression, suicide attempts, and slut shaming would end up in the Caldecott Honor list but the drawing are amazing and makes one feel.
I have seen many reviews that make a big deal about the main character Rose being unlikeable but I also remember being unlikable at that age. I wanted to be cool and try to understand how the world worked by reading more adult books or magazines. I also thought my parents were awful in that sulky teenage way. This is Rose all over. Characters don't always have to be likable to have a story to tell. I do agree that the story doesn't seem to go anywhere but in a way it doesn't have to. There is almost a nostalgia glasses on this one and it seems that it is meant more for an adult audience. There were parts were I felt that things dragged but it is a very slow moving story where observation is the key.
I would probably recommend this one to 8th grade and above. It is a good story about growing up and learning that our heroes or crushes are not always infallible.
Blankets by Craig Thompson