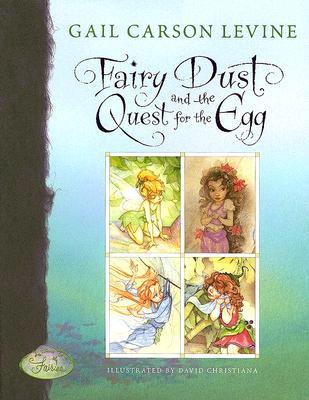 Fairy Dust and the Quest for the Egg
by Gail Carson Levine
read by Hannah Gordon
Audio-book
Disney Press
2005
Book Jacket Summary
Fairy Haven is abuzz with news about its latest arrival, Prilla. It's bad enough that she has no idea what her special talent is, but some of her behavior is remarkably, well, human. Prilla is heartbroken that she does not seem to fit in. She desperately needs help from Mother Dove, the most important creature in Neverland, who created and cares for the magical egg that prevents all who live in Neverland from growing old and dying. But tragedy strikes as the island is hit by a hurricane, and the Never egg is destroyed. Mother Dove must pick three fairies to set out on a dangerous quest to repair the egg. She chooses Rani, the best water-talent fairy; Vidia, the most selfish, but fastest fast-flying-talent fairy; and, to everyone's surprise-Prilla. The three embark on a journey filled with danger, sacrifice, and adventure. The fate of Neverland-and their world as they know it-rests on their shoulders.
For a book about fairies this book can be very bleak. I mean it's cute in parts but it also has a fairy cut off her own wings and talks about a birds broken wings in great detail. It is an interesting read and I am listening to the rest of the series but it is not you typical sweet fairy book that little girls might be looking to read. The pictures are gorgeous and Hannah Gordon has a very soothing voice that carries you through the rougher content but it is still rough. I guess I just expected something different when I started the series based on the Neverland fairy movies I saw while babysitting.
I do recommend it if you like fairy tales but know that it can be a bit sad at points. The magic is interesting and talks about how Neverland keeps Peter young forever. Tinkerbell even references Peter and her love for him but it is not the main part of the story. There are four main fairies- Tink, Prilla, Rani, and Vidia. The each have very distinct personalities with Prilla being the newest fairy in Neverland. We learn about the fairies through her eyes and her struggles because she doesn't have a talent. I also like Vidia, even though she is loathsome at times because she does help but does not loose her selfishness at the end. It is a core characteristic and part of who she is at heart.
I have always like Gail Carson Levine. She wrote one of my favorite books as a child (Ella Enchanted) and I am looking forward to see where the story goes in the nex book.
The Fairy's Mistake (The Princess Tales, #1) by Gail Carson Levine